Imagine that you are in living in anarchy - a stateless society. A salesman from a group called YourNation tells you that they creating a startup government. He says governments are wonderful, and asks you to sign the following contract.
Would you sign it?
---
The Government Offer: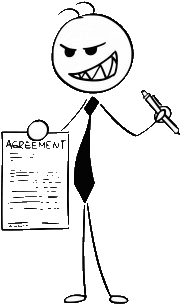 You are NOT to make any money without telling me.
You are NOT to leave my fief territory without permission.
You WILL pay me a percentage of your income, the amount determined by me. If you do not pay me, you will get locked in the cage.
You will NOT own anything I don't approve of or get locked in the cage.
If you trade, you can ONLY do it With MY permission slips (unless I've given you permission). Trading with other kinds of currency could land you in my cage.
If you get a job, your employer will owe me money.
If you want to have friends come over from another place, they'll have to wait in line for my permission. Maybe for years.
You WILL let me listen in on phone calls, texts, emails, or any other communications. If you have nothing to hide you have nothing to fear.
I WILL take your money as I see fit and spend it how I want. My friends will get a cut. If you complain about my behavior, it's a sign you don't love me. My friends will tell you to move to Somalia.
---
Obviously not!
This exercise demonstrates that anarchy, the condition of statelessness, is a stable equilibrium once it is achieved. People accustomed to liberty would generally not opt for servitude. The bad news is: archy (statism) is also a stable equilibrium. It will be very difficult to get from archy to anarchy.
This page is based on a popular meme called Relationship Rules.