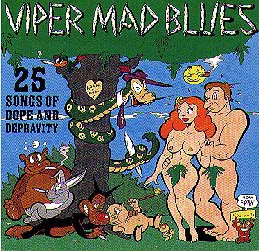 Jass Records (1991) J-CD-630
Viper Mad Blues
25 Songs of Dope and Depravity
The best collection of old-time drug songs around. These blues and jazz recordings are from the late twenties to early forties. The wonderful collection includes songs by the famous and the forgotten. The famous include Leadbelly, Ella Fitzgerald, Fats Waller, Champion Jack Dupree and blues guitar greats Lonnie Johnson and Big Bill Broonzy. The oldest English-language reefer song, Willie the Weeper, is on this CD.

Not all the songs are about pot; there are also some cocaine, alcohol, and opium, and general "get high" songs. The table shows which "depravity" is featured. Highly recommended CD. Hogeye Bill sez check it out.
Num

Song Title

Year

Performer

Featured Depravity

1

Kicking the Gong Around

1933

Cab Calloway and his Cotton Club Orchestra
"Kicking the gong around" is smoking opium.

2

Dope Head Blues

1927

Victoria Spivey and Lonnie Johnson
Cocaine. "Give me another sniffle of that dope." sniffle = toot = snort = whiff

3

Cocaine Habit Blues

1930

Memphis Jug Band
Cocaine.

4

Pipe Dream Blues

19??

Hazel Meyers
Opium smoking. Sounds late 20's or early 30's.

5

Smoking Reefers

1938

Larry Adler
Cannabis.

6

Take a Whiff on Me

1934

Leadbelly
Cocaine.

7

Killing Jive

1939

The Cats and the Fiddle
Cannabis. jive = tea = gage = ganja "you start laughing and you can't stop."

8

If You're a Viper

1936

Stuff Smith and his Onyx Club Boys
Cannabis. viper = stoner = toker Refers to cotton-mouth and the munchies.

9

The Stuff is Here and It's Mellow

1935

Cleo Brown
Alcohol. Song was apparently written during alcohol prohibition.

10

Reefer Man

1932

Baron Lee and the Blue Rhythm Band
Cannabis.

11

The Onyx Hop

1937

Frankie Newton and his Uptown Serenaders
Cannabis.

12

Knocking Myself Out

1941

Lil Green
Cannabis.

13

Junker's Blues

1940

Champion Jack Dupree
Cannabis, with references to various other drugs.

14

Reefer Hound Blues

1938

Curtis Jones
Cannabis.

15

The Reefer Song

1943

Fats Waller
Cannabis. Fats covers If You're a Viper. Track 8 is the original.

16

I'm Feeling High and Happy

1938

Gene Krupa and his Orchestra
Unclear/Drugs in general. Most likely cannabis.

17

When I Get Low, I Get High

1936

Ella Fitzgerald
Unclear/Drugs in general. Most likely cannabis.

18

Ol' Man River (Smoke a Little Tea)

1938

Cootie Williams and his Rug Cutters
Cannabis. Refers to "tea" (pot). Tea influenced parody of a classic.

19

Blue Reefer Blues

1935

Richard M. Jones and his Jazz Wizards
Cannabis. Instrumental piece.

20

Cocaine

19??

Dick Justice
Cocaine. Cover of track 24 Cocaine Blues by Luke Jordan.

21

Reefer Head Woman

1938

Jazz Gillum and his Jass Boys
Cannabis. Pothead girlfriend sleeps too much. Big Bill on guitar.

22

Willie the Weeper

1927

Frankie "Half-Pint" Jackson
Opium or morphine user. "Weeper" probably refers to red eyes.

23

Cocaine

19??

Luke Jordan
Cocaine. The quintessential coke song.

24

Blue Drag

1935

Freddy Taylor and his Swing Men from Harlem
Cannabis. Blue drag is apparently a nickname for ganja.

25

A Viper's Moan

1935

Willie Bryant and his Orchestra
Cannabis. Instrumental with ad lib crosstalk.