Markham Hill Moment of History
2019-11-11
Suki Highers' Life as a Markham Hill
Cabin Dweller in the 1990s
by Suki Highers
Community Radio show
aired on KPSQ 97.3 FM: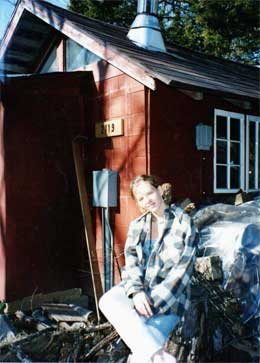 Having grown up in Little Rock, Arkansas, my move to Markham Hill as a college student was a dramatic shift. I moved into the twin cabins in 1993. They were situated in the front yard with a view of the Archer's "cabin" and the old big house.
My new home consisted of three buildings. One cabin was a living area with a wood burning stove. A friend taught me how to split firewood and how to build a fire, skills a city girl did not need. My second building was a kitchen/ bathing area. I was lucky - I had running water with a sink and a bathtub, a luxury the other cabin dwellers did not have. The two were joined together by a small patio. The third building was my outhouse, conveniently located in the center of Julian and Jane Archer's circle drive. When I walked to my outhouse, I often saw them sipping cocktails on their wrap around porch.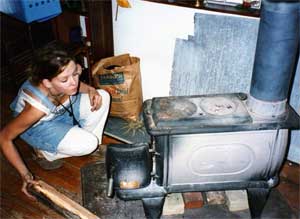 It was a great situation for a college kid. My rent was $125 a month. I often walked to school and still, 26 years later, I have dreams where I am walking up the hill after class. I was able to work part time and afford rent and tuition because my cost of living was so low. 
In 1995 I upgraded cabins and moved in with my boyfriend (now husband of 22 years). We moved into the carriage house. Though my bathroom was in my kitchen, I now had a flush toilet. The big beautiful windows looked over the woods and it was a paradise to me. We married in the backyard, and in 1997 my oldest son was born right next to the giant wood stove during the first snow of the year. When my oldest son began to crawl, we decided to move to a more traditional home. We loved the carriage house, but it wasn't the safest place for a mobile child.
When the carriage house was demolished to make a parking area for the new wedding venue, I cried. I felt like I had truly grown up there. Here, I had learned to be self-reliant, gotten married, graduated college, and had a child. Markham Hill will always be special to me.