Markham Hill Moment of History
2019-11-25
Only Rolls-Royce in Town
Community Radio show
aired on KPSQ 97.3 FM:
Joy Pratt Markham and her Rolls-Royce were famous around Fayetteville in the 1960s. Older Fayetteville natives can tell you stories about it. Here are two articles and one neighbor's story.
"A Rolls in the Bedroom" by Chuck Hemingway

[published in the Arkansas Democrat Magazine, March 10, 1968]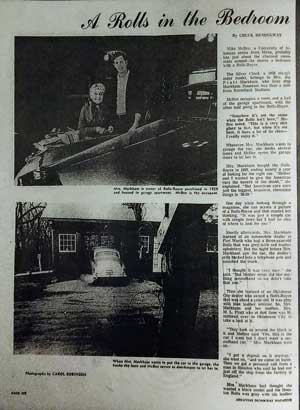 Pg 1 -click to enlarge
Mike McBee, a University of Arkansas senior from Mena, probably has just about the classiest roommate around – he shares a bedroom with a Rolls-Royce.  The Silver Cloud, a 1958 six-cylinder model, belongs to Mrs. Joy Pratt Markham, who lives atop Markham Mountain less than a mile from Razorback Stadium. McBee occupies a room and a half of the garage apartment, with the other half going to the Rolls-Royce. "Somehow it's not the same when the Rolls isn't here," McBee notes. "This is a very nice place to live, but when it's not here, it loses a lot of its class – I really enjoy it." Whenever Mrs. Markham wants to garage the car, she honks several times and McBee opens the garage doors to let her in.
Mrs. Markham bought the Rolls-Royce in 1959, ending nearly a year of looking for the right car. "Mother and I wanted to give the American cars the benefit of the doubt," she explained. "But American cars were just the biggest, brassiest, chromiest things in '58-59."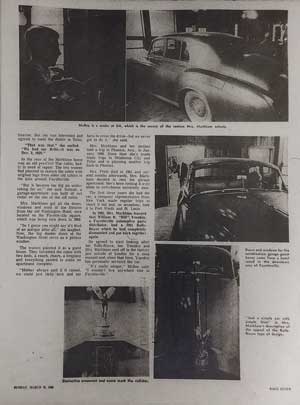 Pg 2 - click to enlarge
One day while looking through a magazine, she ran across a picture of a Rolls-Royce and that started her thinking. "It was just a simple car with simple lines, but I had no idea of where to look for one." Shortly afterwards, Mrs. Markham learned of an automobile dealer in Fort Worth who had a three-year-old Rolls that was grey with red leather upholstery. But the night before Mrs. Markham saw the car, the dealer's wife backed into a telephone pole and smashed the trunk. "I thought it was very nice," she said. "But Mother never did like anything secondhand, so we didn't take that one."
Then she learned of an Oklahoma City dealer who owned a Rolls-Royce that was about a year old. It was grey with blue leather interior. So, Mrs. Markham and her mother, Mrs. C. L. Pratt who at that time was 98, motored over to Oklahoma City to take a look at it. "They took us around the block in it and Mother said 'Yes, this is the car I want but I don't want a secondhand car,'" Mrs. Markham went on. "I put a deposit on it anyway," she went on, "and we came on home.  Then we got a personal call from a man in Houston who said he had one just off the ship from the factory in England." Mrs. Markham had thought she wanted a black model and the Houston Rolls was grey with tan leather interior. But she was interested and agreed to meet the dealer in Tulsa. "That was that," she smiled. "We had our Rolls – it was on Dec. 2, 1959."
In the rear of the Markham home was an old pre-Civil War cabin, badly in need of repair. The two women had planned to restore the cabin with original logs from other old cabins in the hills around Fayetteville. "But it became too big an undertaking for us," she said. Instead, a garage apartment was built of red cedar on the site of the old cabin. Mrs. Markham got all the doors, windows, and most of the fixtures from the old Washington Hotel, once located on the Fayetteville square, which was being torn down in 1960. "So, I guess you might say it's kind of an antique after all," she laughed. Now, the big double doors of the Washington Hotel serve as a picture window. The women planned it as a guest house. They furnished the cabin with two beds, a couch, chairs, and fireplace and everything needed to make an apartment complete. "Mother always said if it rained, we could just sleep here and not have to cross the drive – but we never got to do it," she said. Mrs. Markham and her mother took a trip to Phoenix, Ariz., in January 1960. Since then she's made many trips to Oklahoma City and Tulsa and is planning another trip back to Phoenix.  Mrs. Pratt died in 1961 and several months afterwards, Mrs. Markham decided to rent the garage apartment. She's been renting it ever since to well-chosen university men. 
The first three years she had the car, a company representative from New York made regular trips to check it out and, on occasions, took it to Fort Worth and St. Louis. In 1962, Mrs. Markham learned that William B. "Bill" Younkin, a Fayetteville automotive parts distributor, had a 1931 Rolls-Royce which he had completely dismantled and put back together again. He agreed to start looking after her Rolls-Royce, too. Younkin and Mrs. Markham sent off to the factory just outside of London for a shop manual and, since that time, Younkin has personally serviced the car.
"It's really unique," McBee said. "I wouldn't live anywhere else in Fayetteville."
Mrs. Markham's Roll-Royce at the Sutherland House
Neighbor Martha Sutherland's memories of Mrs. Markham and her Rolls-Royce
"Mrs. Markham would often call us and invite herself over. She would drive over in her silver Rolls-Royce, her head peaking over the dashboard since she was so short, park the car in our driveway, come inside, and watch our TV.  One day there was a rainbow in the sky.  We got a photograph of it, with her Rolls-Royce in the foreground."
"Fire Destroys City's Only Rolls-Royce"

[published in the Northwest Arkansas Times, August 6, 1973]
The only Rolls-Royce in Fayetteville was destroyed by fire which consumed a garage at the home of Mrs. Joy Pratt Markham on Markham Road early Sunday. Fire Chief Charles McWhorter said the 1958 model car was a total loss. Numerous antiques stored in the building also burned. The roof of the building had collapsed before firemen arrived at 6:15 a.m. Sunday. Neighbors reported hearing "popping and crackling" noises as much as an hour before the fire was reported. McWhorter said firemen concentrated on protecting adjacent homes and outbuildings. In addition to the Rolls-Royce, two other cars were blistered and had glass broken and the back of Mrs. Markham's home suffered heat damage. No estimate of damage is yet available, McWhorter said, adding, "it will be considerable." Mrs. Markham placed the value of the car at $16,500. McWhorter said cause of the blaze is still undetermined, but firemen are investigating the possibility of arson.