Markham Hill Moment of History
2020-01-20
Running on Markham Hill
Community Radio show
aired on KPSQ 97.3 FM:
For over 40 years people have run "The Trails" on Markham Hill.
The University of Arkansas cross country and track coaches have said that running on Markham Hill has contributed to their success. When they entertain recruits, they often take them for a run on Markham Hill. It started with John McDonnell who made a deal with the Pratt family descendant Julian Archer (Evangeline Pratt Waterman Archer's son) in the early 1980s – the U of A teams could run on Markham Hill if they maintained the trails. In the book 'John McDonnell: The Most Successful Coach in NCAA History' by Andrew Maloney and John McDonnell, it says, "The team hammered away its "easy" days up in shaded trails off West Markham Road above University Heights owned by Jane and Julian Archer. The couple graciously allowed the Razorback harriers to train on the property for four decades. Amidst the forested swath of land with a wood-chipped trail, the soft and shaded surface allowed Arkansas runners to train hard and avoid injuries throughout the year. For opposing runners visiting Fayetteville it became almost a pilgrimage site, a place where others could soak in some of the Hog magic. It was there that John attempted to keep his finger on the pulse of his team."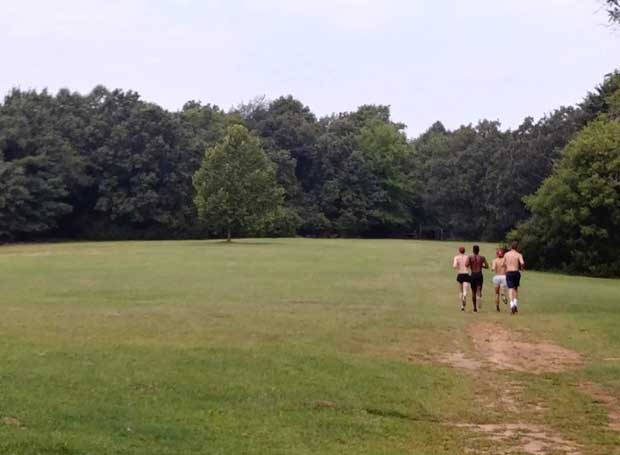 U of A cross country runners on Markham Hill, heading to "The Trails"
The U of A teams would do trail maintenance in the late summer to prepare for the Fall semester. They would cut back the brush to create a running route, lay down gravel and dirt, and spray for ticks and fleas. They used the trails weekly and year-round.
John McDonnell began as the University of Arkansas Razorbacks cross country and track head coach in 1972 and became head track coach in 1978. He retired after the 2008 NCAA Outdoor Championships. The U of A cross country and track teams, under his coaching, won 40 NCAA Championships, 5 NCAA Triple Crowns, 38 SWC Championships, and 46 SEC Championships. McDonnell is a 30-time national coach of the year, 49-time conference coach of the year, and 62-time region coach of the year.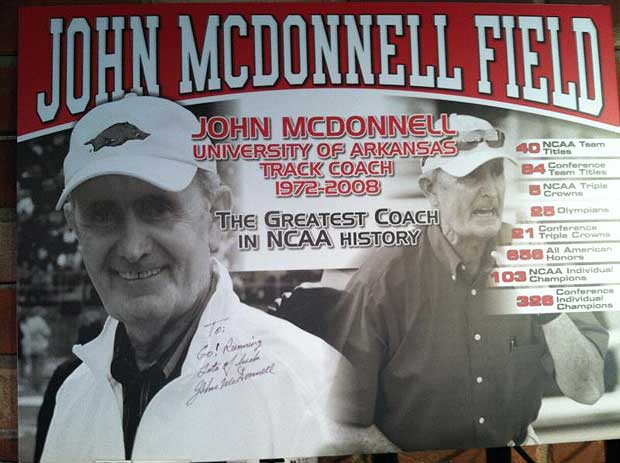 Lance Harter is the most successful coach in University of Arkansas and Southeastern Conference women's cross country, track, and field history. He has run his teams on "The Trails" for the last 30 years on their recovery days.  Harter said that Markham Hill is a sanctuary and a great training opportunity. 
Facts about Lance Harter: 501 All-Americans, 25 NCAA Event Titles, 37-Time SEC Coach of the Year, USTFCCCA Coaches Hall of Fame, 2015 National Indoor Championship, 2016 National Outdoor Championship, 2019 National Indoor Championship, 2019 National Outdoor Championship, 24 NCAA Regional Championships, 33 SEC Titles, 7 SEC Triple Crowns.
Chris Bucknam has been head coach of the nationally dominant Arkansas men's cross country, track, and field program since taking the Razorback head coach position in June 2008 when John McDonnell retired. From arkansasrazorbacks.com, "Bucknam has enjoyed tremendous success in the form of 19 Southeastern Conference championships, seven NCAA regional titles, and 279 All-Americans, guiding the Razorbacks to 65 individual SEC event titles. Nationally, Bucknam's guidance has led the Razorbacks to 20 top 10 finishes since his arrival in Fayetteville. His cross-country squads have placed in the top 10 four times in his tenure, while track and field has 16 top 10s including four national runner-up finishes and a national title." Bucknam worked with Julian Archer to display their trophies at Pratt Inn on Markham Hill.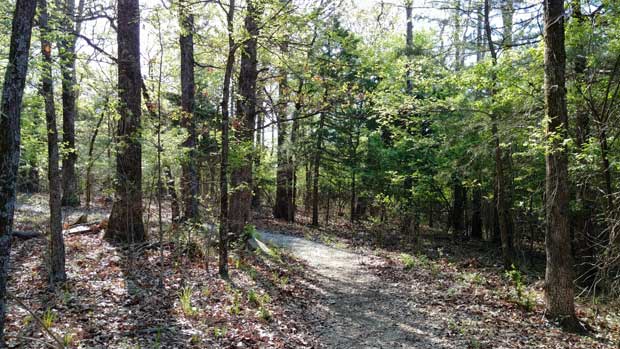 A trail on Markham Hill
Many others have also run on Markham Hill. Below is a sampling.
Denton Lyle Childs: "I ran up there nearly every day in the late 80's to mid-90's.  Julian also let people he knew were associated with the track team. A couple of us also maintained the trails for running in those days, trimming back brush, fallen trees, etc. I remember one summer, Wade Colwell and I laid down wood chips over the trails from a huge pile that John had deposited up there from the back of his little Datsun pickup truck."

Michelle Carter Parker: "I remember being at Ramay Junior High School in the early 90's and their cross-country team would run the trails every day since it was adjacent to the school (before the apartments went in on the north). I never joined the team, so I didn't get a chance to run there. I've always wondered if it was open to the public. Looked like a beautiful place to take a walk."

Emily Cochran: "I LOVED watching the track team run close to my cabin."

David Griz Orr: "When I lived on the north slope of Markham Hill in the late 70s/early 80s I would often run on the trails. It was a wonderful time, full of memories."

Marc Noe: "My grandfather bought the land that is now apartments the south side of the mountain. I loved exploring the trails."

Val Robison: "I ran on the trails with the Razorback track team in 68 and 69. Ran by myself in the mid-80's. Still my all-time favorite place to run!"

Kent McLemore: "I ran the Markham Hill trails for many years. The Sassafras Running Club per Julian Archer. I also worked to improve and maintain them. Fond memories. In the late-80's we ran up there via a trail from the south end of Sang Street. I was introduced to the trails by Casey Jones and Paul Donovan. I ran alone and with others. I recall running with Jones, Denton Childs, Wade Colwell, Doug Armstrong and occasionally Donovan, Frank O'Mara, Lance Harter, even Coach McDonnell himself! And many others whose names escape me. We built and repaired drainage berms and shoveled out many truckloads of wood chips. I liked running up there because it was pretty, shaded, the surface was forgiving, and I felt I was contributing a bit to the great U of A running programs. It was fun to get passed by the many world-class runners who ran up there over the years! I ran up there until injuries forced me into running retirement in the late 1990's. There are many others who lived, worked and ran up there longer than I."

Carmen Cheadle: "I have been running the little trails on Markham Hill for a long time. I started running there with my dad when I was a​ kid, then got to train there when I ran cross country for FHS. The Razorbacks trained there too and it was always exciting to see them run by because they where so fast! I even remember when the house was being remodeled into the Pratt Place Inn. The trails feel like a hidden gem and a part of Fayetteville history. There is so much wildlife there. I have seen deer, groundhogs, armadillos, foxes, snakes and turtles. I can't imagine the negative impact there will be from development displacing them. I remember running through the horse field and seeing healthy deer grazing nearby. In recent years I have noticed a difference in herds of deer that seem extremely skittish and split up at the slightest movement or sounds. I assume this is from surrounding development. I think the trails there provide an opportunity to see just how much wildlife is in our city and how important it is that our native plants and animals have a safe place to exist."

Marquette Bruce: "I walked on the Markham trails for several years. It became my haven close to home."
Markham Hill trails, the quiet meadow, the intact urban forest, the wildlife, the quiet, the solitude, away from civilization. A sanctuary. A part of Fayetteville culture even before the Pratt family settled there in 1900. A part of Native American life and habitation before that. A part of our great U of A cross country and track teams and their success for 40 years. A part of us.
Markham Hill is worth saving from development and making a nature, wildlife, historic, and Native American preserve where people can continue walking and running amidst quiet, solitude, and sanctuary.