Markham Hill Moment of History
2020-02-10
My Life on Markham Hill
by Micheal Parks, Part 2 of 2
Community Radio show
aired on KPSQ 97.3 FM: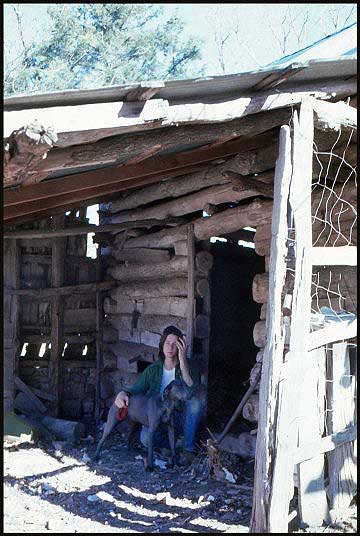 Cleaning out the barn with my dog Blue. I had just finished
shoveling out the last of the trash from the inside
I was busy working on my new homesite that summer as well. After Lucas moved out, the first thing I did was clean out all the trash inside and outside of the old log barn. I had an idea about fixing up the barn and turning it into a residence that would have a little more room than the cabin I was living in now.
Cleaning away the debris outside was straightforward, but the inside was more of a problem. It was filled to the brim with tons of old magazines and newspapers. Ward Pennington was a hoarder and the inside of the old log barn was undoubtedly the mother lode of his collection.  I spent days cleaning it out. I found many old rare magazines, many of which were in excellent condition having been buried for years in layers of various types of printed material. I still have some of the old magazines. I also found a photograph of Ward sitting on the top log beam when the barn was being built. There were three young women dressed in Sunday finery sitting up there as well. The photo was dated 1913. I'm sorry I don't still have this remarkable old photo to show you. It was lost somewhere over the years.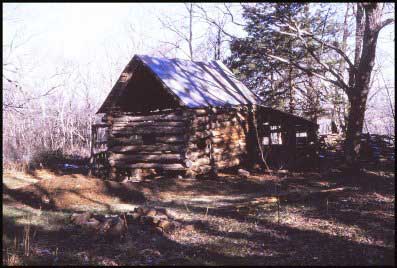 The log barn after cleanup
There were also plenty of rats and mice living in the trash inside the barn but I was determined to clear all the junk away and expose the handcrafted logs hidden beneath. I wore a pistol on my belt while I was cleaning to shoot rats that might have responded to their eviction aggressively. It was an unusual way for an art major to be spending time away from his studies, but I was having a great time imagining what the possibilites might be for the place. Like most of us on Markham Hill, I was very interested in getting "back to the land" and creating a lifestyle that was different from the middle class suburbia I'd grown up in. I had visions of not only restoring the barn, but also refurbishing the old wagon and horse-powered farm implements that I found in a dilapidated garden shed near the barn. I imagined getting a "Missouri mule" and keeping it in Ms. Markham's pasture so that I could hitch up the old wagon and drive down to the food co-op near Dickson Street to get the weekly supplies of staples for the homestead. Needless to say, I was not quite living the typical college student routine.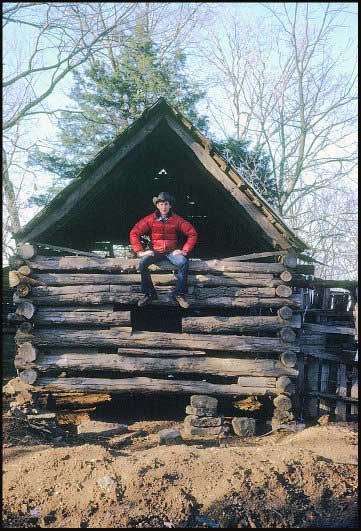 Some rotten logs on the bottom were removed
and I jacked the structure up to re-level
I was still living in the large red cabin down the hill while I worked on cleaning out the log barn. Most of the time my dog Blue would be with me, but one day, when I got down to the red cabin, I caught him with a dead guinea in his mouth. Ms. Markham's guinea flock by that time had been reduced to a much smaller number and now I indeed knew why. I'd been told that once a bird dog gets the taste of killing, there's only one way to stop them from it and that's by attaching the dead bird around its neck and letting the carcass stay there until it rots. However, I didn't have the heart to do that to Blue. Either Blue would have to leave the hill, or I would. I ended up giving Blue to a girl from one of my art classes who assured me she would love him and give him a good home. I really had no business having a dog at that time in my life anyway. So, my young Blue Weimaraner was re-homed and I was able to stay on the hill.
As an art major, I was interested in sculpture. I had been taking classes from sculpture professor Bob Sweeny and I submitted a proposal to re-design and restore the old log barn as a sculpture project. Sweeny agreed to let me use this project for sculpture credits toward my art degree, along with another project that involved building a pyramid and placing it atop a large timber pole platform to see if it had any effect on me while I meditated underneath it. Obviously, this was the '70s. Sweeny was a cool guy and he was intrigued with what I might come up with, so he approved my projects. Ms. Markham also approved my idea and was delighted to know that I was cleaning up and restoring Ward's old barn. She even offered to pay for the materials!
Getting things ready to move into the cabin
After I made some initial improvements to the barn, I started working on the small cabin that Lucas had vacated. I installed a 55-gallon barrel outside as a water tank for my kitchen sink water supply and put in a rustic counter top to prepare food on. I also built a wood-burning sauna as an alternative to a conventional bath or shower, which the cabin lacked. There was (and still is) an old well in the woods near where the sauna was. The hand pump on the well supplied water for the sauna.  Every evening, I would stoke up the sauna, sweat myself clean, and rinse off afterwards with a large bucket of hand-drawn well water. Life was good. Many of my college girl friends would come up to visit when I lived there and sharing time in the hot steamy sauna was a unique way to warm things up.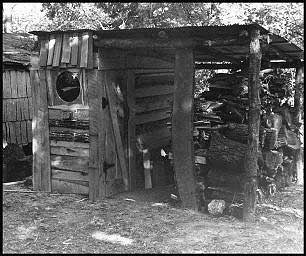 The wood burning sauna
During the summer I spent most of my extra time working on the barn project or the community garden. I built a small geodesic dome by taking an industrial arts course at the university so I would have access to the power tools I needed to fabricate the intricate angles out of clear redwood. The dome was intended to serve as a passive solar collector and a greenhouse. It was designed by my friend Bruce Schulte, a physics major, who did all the math calculations and helped cut the custom miters and finish the covering with clear Mylar.
 A guy named James Lentz moved into Ward Pennington's old house after Lucas left. Everybody knew him as Squeaker. Squeaker was a mason and he helped me chink the old logs on the barn with cement. He taught me enough about masonry that I was able to build a semi-circular stone wall on the front of the log barn to mount the geodesic half-dome. I also built a large round stone planter in front of the cabin, which is still there today.
As the barn renovation started to take shape, I became much more interested in it as an art project. I spent all I could afford on pouring a cement slab in and around the log barn to create a decent foundation for the completion of the project. I enlisted a friend from the food co-op to help me shoot some video footage to document the process. The video camera belonged to the University Art Department from what I can remember, and it was probably one of the first portable video cameras ever available outside a television studio.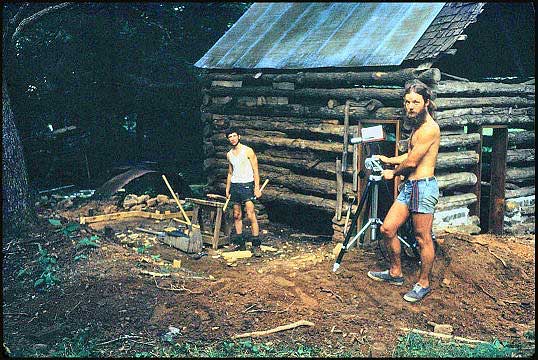 The early days of portable video cameras – shooting the process of building the forms for the slab
foundation. (I really had no idea what I was doing.) That's me on the left and a friend on the right.
As I did more work on the barn renovation, word got back to Ms. Markham about the progress I was making. When I would visit her in the big white house, she would always ask me about it and want to know how it was going. Mrs. Archer, Ms. Markham's sister, also had learned what I was up to. She seemed a bit unsure of the improvements that were being made to the old cabins on the hill. 

Fitting the dome

James "Squeaker" Lentz chinking
logs with chicken wire and cement


Working on a stone foundation for the dome
Although it was a delight to live in the little cabin, especially in the fall and early winter, it was increasingly difficult to live there and keep up with college classes in the middle of winter. Using an outhouse in cold weather is no fun at all and constantly freezing water was becoming a problem, as well. I spent a lot of time in Ms. Markham's house helping her with various tasks and, as a result, she offered to let me stay in one of the spacious upstairs bedrooms in the winter. This was a huge relief: I no longer had to walk across the frozen pasture carrying groceries, I had hot water and a place to bathe, and I was able to use the kitchen. There were also a couple of fascinating people living in the big house in the extra bedrooms upstairs and it was nice to hang out with them in the warm house. The kitchen had a big, rare wood-burning cook stove that had a usable thermostat which was especially useful for cooking cakes. It was always a welcome place to be and there was almost always something good cooking in the stove.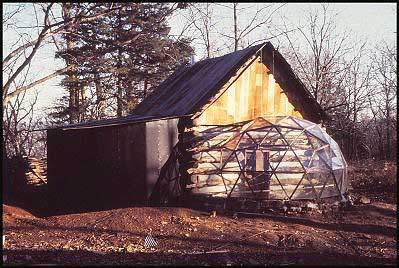 Enclosed kitchen addition with dome attached
In the spring, I would return to living in the cabin and resume work on my projects. I put in a small garden in a clearing in the woods and continued to work on improving the old Pennington place. I had friends from Louisiana come up to visit and a few of them even rented cabins that became available for occupancy. Markham Hill had a reputation as a very special place and anyone who lived there during that time considered themselves very fortunate to have had the opportunity to spend time there. Markham Hill was a sanctuary where the back-to-the-land lifestyle could be experienced by those who would otherwise never have known such an existence.
Pancakes for breakfast
From time-to-time, I would drive Ms. Markham around at her request in her immaculate 1937 gray Bentley and help her out however I could. By 1975 or so, however, she was getting much weaker and was confined to her bed most of the time. The barn restoration had slackened because of a lack of funds and I didn't feel comfortable asking her for additional backing because of her declining health. The project had fulfilled its purpose of providing me extra credits in sculpture toward my Bachelor of Arts degree, and my required courses were taking more of my time. I also had a new girlfriend who didn't exactly fit in with the Markham Hill lifestyle. I moved into an apartment in town during my senior year to concentrate on passing the courses I needed to graduate. I continued to pay rent on the cabin so I could keep my projects intact and resume work after I graduated. Unfortunately, Ms. Markham died in March of 1976, a couple of months before I finished college.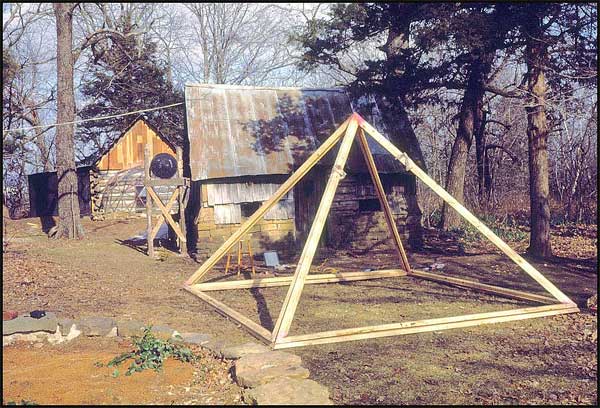 The pyramid sculpture project under construction
During my time on Markham Hill I met many interesting people who were residents or were just passing though. Living there was the best of times and I will always be grateful to Ms. Markham for her generosity and her willingness to keep her land open for people to enjoy. I know she would be horrified to know what has happened to her aspirations for the property and the sale and impending developments to the estate. Markham Hill is a sanctuary and a sacred place. It is my hope—and I know the hope of countless others—that it remains the way Ms. Markham intended.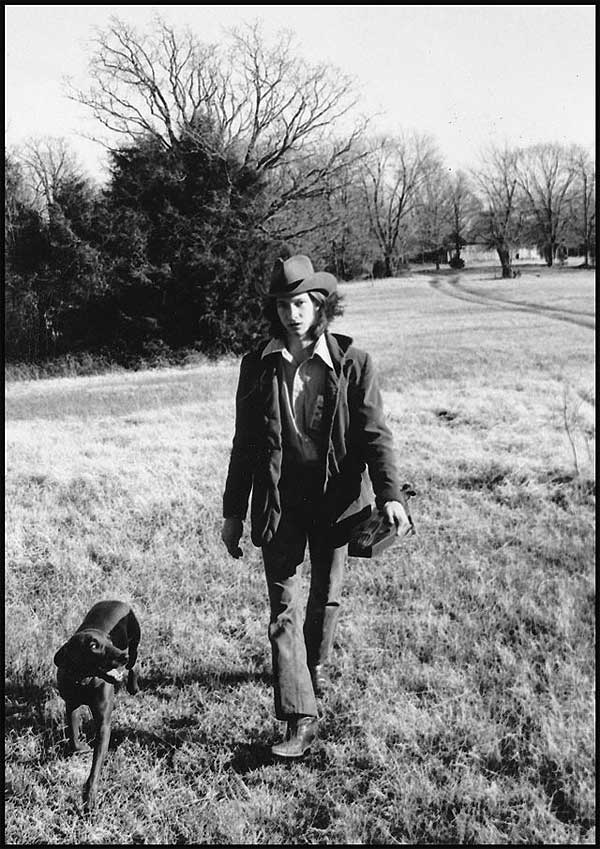 Micheal Parks and Blue