Markham Hill Moment of History
2019-08-26
'Man Outside' on Markham Hill
by Lisa Orton
Community Radio show
aired on KPSQ 97.3 FM:
'Man Outside', originally called 'Solitary Man', is a modestly budgeted independent romance-thriller made and set in rural Arkansas. It was filmed in late 1985 and released in 1986. 'Man Outside' was directed and co-written by Mark Stouffer, brother of Arkansas-born documentary filmmaker Marty Stouffer. Many Fayetteville locals were in the movie and several locations in Fayetteville were used, like the house at the intersection of Gregg and Prospect, the U of A, Mountain Inn, but mostly Markham Hill. Members of The Band were also cast in the movie: Levon Helm in a leading role as a sheriff, Rick Danko as the father of a kidnapped boy, Garth Hudson as a recluse farmer (Vietnam vet living in the back cabin next to the old Ward Pennington house), and Richard Manuel as one of the vigilantes out to find the kidnapper.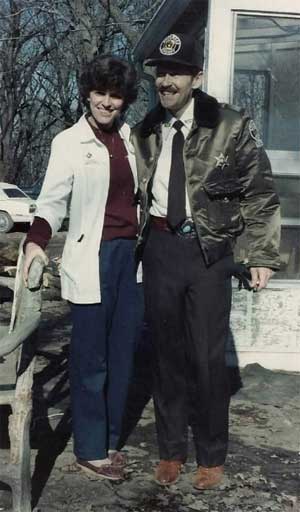 Patsy Galbraith and Levon Helm (in his sheriff attire)
on the set of 'Man Outside' during her lunch break,
taken outside the back door of the Big House. Patsy's
hand is resting on one of the unique concrete benches
that used to be there.
The synopsis of the movie, extracted from Encyclopedia of Arkansas, is:
In an effective opening sequence, Arkansas-born lawyer Jack (played by Robert Logan) speeds his expensive sports car recklessly across Mississippi and Arkansas, finally crashing and abandoning the vehicle in the Ozark woods. Remorseful that his wife had died in a house fire while he was out drinking, Jack becomes a hermit – with enough funds to afford a house much nicer on the inside than the outside. He is friendly only with a few subsistence farmers, although college professor Grace (Kathleen Quinlan) makes some progress befriending the recluse. After a local boy disappears, Jack is first abducted and assaulted by vigilantes [who accused him of the kidnapping] and then rescued and jailed by sensible Sheriff Laughlin (Levon Helm). Grace helps him escape. Together, they investigate and discover that the boy was abducted by local eccentric Simmons (Bradford Dillman). The boy is rescued, and in a rushed finale, Jack forgives himself for his wife's death and vows to re-establish contact with his son. He and Grace fall in love.
Numerous Fayetteville locals played speaking and non-speaking roles. For example, Dr. Morris Henry had a small speaking part with Levon Helm shooting skeet in the pasture on top of Markham Hill. Actor Vaughn Reeves (who graduated from Fayetteville High School in 1969) played Kathleen Quinlan's sleazy husband.

click to enlarge

click to enlarge
Patsy Galbraith was living in the Big House during the three months the 'Man Outside' cast and crew were set up on Markham Hill. The Big House is what everyone called the old Pratt family home built in 1895-1900, where Mrs. Joy Markham grew up and lived until her death in 1976 and which was renovated in 2006 by her nephew to become the Pratt Inn we know today. Patsy reminisced: "I didn't cook a meal for three months. They had huge tables of food set up every day and it was great. The Stouffer brothers wanted to use our house for a few days for shooting, so they put me and my husband up (class act) at the Hilton. I got pregnant during that time with my one and only! Loads of local folks were used. The movie didn't do much but it sure was fun and everybody had a grand time."