Markham Hill Moment of History
2019-09-02
Filming of 'The Blue and the Gray' in Fayetteville
by Lisa Orton
Community Radio show
aired on KPSQ 97.3 FM: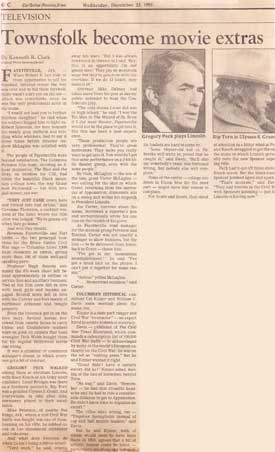 The eight-hour 'The Blue and the Gray' is a television miniseries that first aired on CBS in November 1982. It was set during the American Civil War and starred John Hammond, Stacy Keach, Lloyd Bridges, and Gregory Peck as President Abraham Lincoln. 'The Blue and the Gray' is based on the works of popular historian Bruce Catton. The fictional story is told through the eyes of a young artist who covers the war for Harper's Weekly and who has relatives on both sides. Although the series is largely set in Virginia, it was filmed in 1981 entirely on location in Arkansas except for a segment filmed at Fort Gibson State Park in Oklahoma.
According to a Northwest Arkansas Times, Nov 16, 1982 article, Bob Markell, head of CBS' miniseries unit, said realism was a prime concern in the 78 days required to shoot the three-part series. That took the project to Northwest Arkansas. Almost 6000 local people were judged to have the right look and made their TV debut as extras. "Their faces had Arkansas written all over them," Markell said. "The long hair and facial hair back then were close to what they're wearing today."
One of the filming locations was Fayetteville, Arkansas, in many places including Markham Hill.
Carol Widder:
I remember that the casting people for 'The Blue and the Gray' came to Fayetteville ahead of time and had screen tests. We had a friend who was a camera man, so we got to watch a whole variety of locals audition. When [my husband] Mark's Grandfather Horner started suffering from dementia, he moved in with [Mark's parents] Roger and Kathryn Widder on Markham Road. Mr. Elijah Horner had been in the infantry and the cavalry, first chasing Pancho Villa at the border, then on the Western Front being a captain of code talkers who were Native Americans. Anyway, they were filming a scene up on Markham Hill and all the cavalry in Civil War uniform were marching up the hill. Mark's grandfather saw them and got all excited. He said, "The cavalry's coming and I'm not ready!" I am not sure what happened but if I remember correctly, he tried to go find his uniform to join them. It took some effort to calm him down.
Betsy Finocchi:
My brother Bo Segers was an extra. He was about 14 years old and had to keep his mouth shut so his braces wouldn't show!
David Quin:
Spent a lot of time on the set. Shiloh Museum has what photos I took.
David Schroeder:
Hugh Kincaid was a Yankee officer. Was great in the role. Frank Broyles was the doctor who came out to tell the crowd that Lincoln's wound was 'mortal'. A lot of filming done on campus and either on Washington or Willow in the historic district. Brought in lots of dirt on the streets to fit the period.
Micheal Oglesby:
I was an extra for several days but only at Prairie Grove Battlefield Park. Close quarters with Stacy Keach. Too much coke flying around. They couldn't find enough guys who could ride horses and were willing to pretend to be shot and fall off said horses. It was late fall and too cold to fall in the creek. They kept increasing the amount of money offered for the stunt riding. We were fed well.
Vaughn Reeves:
Yes, I was in 'The Blue and the Gray', as head of one of the stunt groups that did the battle scenes. It was an arduous three months!
Hugh Kincaid:
I played a Yankee colonel and my scene was filmed in Carnall Hall. My father, sister, and son also played parts in the miniseries at different locations in Fayetteville. My son's scene took place on Markham Hill.
The following are excerpts from an article written by Cyrus A. Sutherland for Flashback: Preserving the Past for the Future, August 1982 issue, published by the Washington County Historical Society.
"Practically everyone in Washington County has a "Blue and Gray" story. This is mine. In the summer of 1981 Columbia Pictures Television came to northwest Arkansas and in less than six months made thousands of friends for many reasons, not the least of which was that they left here a large hunk of $17,000,000. Nearly everyone found the making of a major television film to be an exciting and entertaining experience. It helped give new meaning to dozens of our historic buildings, our scenic and history-laden countryside, and it gave entertaining employment to hundreds of willing extras."

"My involvement with the film was quite minor. If I had been given a title, which I wasn't, it might have been something like 'Architectural Consultant.' Although I became reasonably well acquainted with most of the production team before the filming started, I met only two of the long cast of actors (Colleen Dewhurst and Gregory Peck) and saw very little of the actual filming activity."

"Gregory Peck returned again in mid-December to do several more scenes. The scene with the cabinet during the discussion of the Emancipation Proclamation in 1862, as well as the April 14, 1865 cabinet meeting with General Grant (the morning of the assassination), were both filmed in the living room of Headquarters House in Fayetteville. Mr. Peck seemed quite impressed by the exhibits in the rear room of the house and asked several questions about the house, the Battle of Fayetteville, and about the Civil War in Northwest Arkansas. He seemed surprised to learn that Jonas Tebbetts, builder of the house, had been a staunch Union man."

"We then moved to the University campus in Fayetteville for the scenes of Lee and Grant at Appomattox, Lincoln and Jonas testing the Spencer carbine, and John at Willard's Bar. Although is was very cold by this time, hundreds of students and professors stood for hours to watch as Peck and Stacey Keach tested the new Spencer repeating carbine. Unfortunately, the carbine didn't know its part very well and kept jamming. It took more than twenty takes to get that shot, and between each take Peck had to have the special contact lenses (which made his eyes the same color as Lincoln's) removed to prevent permanent damage to his eyes. " "The last scenes done were of Willard's Bar in Washington, D.C. (actually Carnall Hall at the University of Arkansas). After doing one last scene of soldiers marching by, my job was done, and I was warmed by a hearty 'Well done!' from Director McLaglen."

"I know I have ignored many important sites – but was not involved in choosing them, so must leave their story to someone else. Such places include the Circle-H Ranch on Highway 45 East where the Gettysburg Address scene was filmed. Joe Glass, reporting on the dramatic event, said, 'Gregory Peck was asked to repeat that address twenty times (a slight exaggeration, I think) and I cried every time.' There was a poignant scene concerning slaves taking refuge in the woods filmed near the Brick Bailey House on Old Wire Road, with the 1840s Bailey house in the background. An interesting episode was filmed at the small lake near the Fairview Cemetery on east Mission Street. A violent scene of cavalry charges and cannon fire was enacted on the Markham Hill meadow west of the University stadium. "
From the December 23, 1981 issue of The Dallas Morning News, in an article entitled "Townsfolk become movie extras" written by Kenneth R. Clark while in Fayetteville, he writes about a scene filmed on Markham Hill:
"When Robert E. Lee rode in from Appomattox to tell his bloodied, tattered troops the war was over and to bid them farewell, there wasn't a dry eye on the set – which was remarkable, since he was the only professional actor in the scene. 'I would not lead you to further fruitless slaughter,' he said when his soldiers begged him to fight on. Robert Symonds, the man beneath the stately gray uniform and bristling white whiskers, had to say it three times before director Andrew McLaglen was satisfied with it."