Markham Hill Moment of History
2020-01-27
The Markhams and the Younkins
Community Radio show
aired on KPSQ 97.3 FM:
You might be surprised how two families can touch each other's lives at points in time and then move on. Joy Pratt Markham's family and the famous Younkin family connected three times.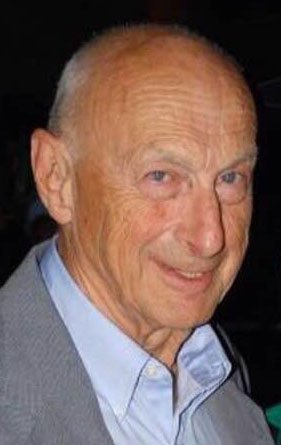 Jim Younkin, friend of Gay Pratt Markham
The first connection: Joy Pratt Markham's son Gay was friends with Jim Younkin at Fayetteville High School in the early 1940s. Both loved aviation and model airplanes. Gay enlisted in the Navy in 1945 and Jim enlisted in the Army in 1946. Gay served as a mechanic in the engine room of a destroyer escort ship. When his navy time was over, he returned to the University of Arkansas where he studied business administration. Gay and three of his Pi Kappa Alpha fraternity brothers bought an old model Taylor two-seater plane. On May 1950, Gay piloted the plane with a college friend as his passenger. A problem occurred soon after takeoff from Drake Field and the plane crashed, killing both young men. [For more on Gay Pratt Markham, see the weekly entitled, "The Short Life of Gay Pratt Markham".]
Jim Younkin's life turned out very different. He lived to be 90 years old and died on May 13, 2019. Jim was the youngest of three brothers. Robert (Bob) was born in 1921, William (Bill) was born in 1924, and James (Jim) was born in 1929. All three were avid model airplane builders.
Jim's online Arkansas Democrat Gazette obituary states:
He used the GI bill to put himself through college at the University of Arkansas, where he later had a brief tenure as a professor. Following college, Jim combined his electrical engineering knowledge and aviation background to design the first miniaturized solid-state slaving system for directional gyros used for general aviation flight instruments. He went to work for Hughes Aircraft Systems in Phoenix, where he was on the guidance systems program for the Phoenix Missile. He then went to work for an aviation instrument company out of Houston, Texas and found himself at Mitchell Industries in Mineral Wells, Texas, where his career really took off. Jim designed the Century I-IV series autopilots for general aviation aircraft, which replaces the antiquated WWII surplus systems that had been employed up to that point. He also designed one of the first successful horizontal situation indicators, a derivative of which is still being manufactured and installed in aircraft to this day. In 1978, Jim retired from the autopilot world and started restoring antique airplanes. He built replicas of the Golden Age air racing aircraft, modified a series of Beechcraft Staggerwings now known as "Younkin Staggerwings", and had his hand in the design and recreation of many other antique and classic airplanes. He also designed and scratch-built four examples of an aircraft he dubbed the "Mullicoupe". In 1999, he became the co-founder of TruTrak Flight Systems, the first general aviation digital autopilot company, where he began his third career designing state of the art flight instruments.
Jim and his brother Bob founded the Arkansas Air Museum at Drake Field in Fayetteville.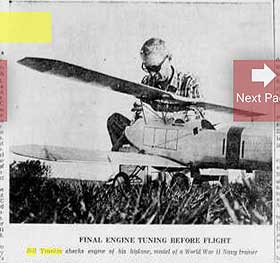 Bill Younkin, Mrs. Markham's mechanic for her
Rolls-Royce and Bentley in the 1960s and early 1970s
The second connection: Jim's brother Bill was Joy Pratt Markham's mechanic for her Rolls-Royce and her Bentley. From the 1968 article, 'A Rolls in the Bedroom' by Chuck Hemingway, it says, "In 1962, Mrs. Markham learned that William B. "Bill" Younkin, a Fayetteville automotive parts distributor, had a 1931 Rolls-Royce which he had completely dismantled and put back together again. He agreed to start looking after her Rolls-Royce, too. Younkin and Mrs. Markham sent off to the factory just outside of London for a shop manual and, since that time, Younkin has personally serviced the car."
Bill operated an auto wheel alignment business on College Ave called Younkin & Sons, Inc. He took care of Joy's Rolls-Royce and Bentley until her death in 1976. Joy's will stated: "I give and bequeath absolutely to Mr. Willian Younkin, of 1741 Walnut St., Fayetteville, Arkansas, my 1960 Bentley automobile.  I give and bequeath to Richard Mayes, of Highway 16 east, Fayetteville, Arkansas, my 1948 Dodge Automobile." 
The third connection: It has been said that when Jim's son, Robert Allan "Bobby" Younkin, studied at the University of Arkansas, he lived in one of Joy Pratt Markham's cabins on her property for a short time. It was called the Carriage House, a structure built on the foundation of an old cabin and what used to house the Pratt family buggy in the early 1900s. Mrs. Markham had converted it into a garage apartment built of red cedar with doors, windows, and most of the fixtures from the old Washington Hotel once located on the Fayetteville Square and torn down in 1960. Bobby shared the apartment with Mrs. Markham's Bentley. Her Rolls-Royce had been destroyed in a fire in 1973. Bobby was one of her many drivers. Bobby later became an air show stunt pilot. He died in July 2005 in a midair collision during a show in Moose Jaw, Saskatchewan, Canada.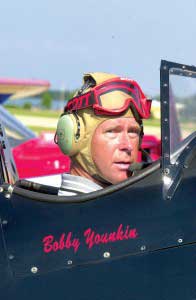 Bobby Younkin, lived in Mrs. Markham's
Carriage House in the early 1940s while
in high school
From airportjournals.com, the September 2005 article, 'Aviation Community Mourns Loss of Legendary Air Show Pilots Jimmy Franklin and Bobby Younkin' says:
""My favorite thing that I ever do in an airplane is take off," said Bobby Younkin of his chosen profession. "It's where you defy the laws of gravity, where you break the surly bonds of earth. It just doesn't get any better than that."
Robert Allan Younkin was born Oct. 30, 1955, in Prairie Grove, Ark., to Jim and Catherine Younkin. He was fascinated with aircraft from the age of three, influenced by both his father and grandfather, both pilots. Later, he built remote-controlled aircraft and learned aerobatics by flying them. He learned to fly at the age of 16 and started repeating the aerobatic maneuvers he had developed with RC aircraft by doing them for real in his father's Decathlon. "I just had to orient myself to being in the air instead of on the ground watching," Younkin said.
For his high school graduation, his father gave him five hours of instruction with legendary aerobatics pilot Duane Cole. By the time he turned 18, Younkin had flown in his first air show in Siloam Springs, Ark. Later, he accepted a job flying airmail, in the late 1970s, before starting a successful air charter business, Younkin Air Service, which had recently relocated to Cecil Smith Field (Siloam Springs Municipal Airport).
However, the Arkansas native's first love was his air show performances. "Aerobatics is kind of like an aerial circus," Younkin said. "People come to shows to see the impossible." He first came to national attention when he converted a Beech 18 twin-engine cargo plane for aerobatics in 1989. The same year saw his impressive conversion of a Learjet 23 for aerobatic use, never intended for that purpose. Younkin had to get special approval from the FAA to fly the Lear, the ninth one off the line, in air shows.
"You know you're onto a good air show act when everyone starts telling you you're crazy," Younkin said of his one-of-a-kind acts.
When the accident occurred, Younkin was flying "Samson," a replica 1940s Pitts biplane. The pilot so loved the plane that when he bought an African lion cub as a companion for his family at their home in Springdale, Ark., he named the big cat after the aircraft.
Younkin, 49, was one of Jimmy Franklin's closest friends; the pair had tremendous respect for each other's flying abilities. He had logged more than 15,000 hours in his 30-year career and, like Franklin, had received the Bill Barber Award for Showmanship, receiving the award at EAA AirVenture Oshkosh 2004.
"I think they wouldn't have had it any other way," said Mike Eckels, curator of the Ozark Military Museum in Fayetteville, Ark. "They were among the very best air show pilots in the country and they loved to perform for people. They did things that other people didn't even think about and made it look easy."
Family and friends gathered at the First Baptist Church in Fayetteville to pay tribute.
"My dad was a Christian as well as an amazing pilot, so we have no doubt where he's watching from now," said Bobby Younkin's son, Matt Younkin. "We're praying and taking things a step at a time, but we'll continue to be involved in aviation.""