Markham Hill Moment of History
2020-3-16
Frank Sharp's Friendship with the Pratt Family
by Lisa Orton - Part 2 of 2
Community Radio show
aired on KPSQ 97.3 FM:
On September 3, 1960, Frank Sharp and Sara Savage were married. Frank was a senior in the College of Engineering at the University of Arkansas and Sara was a senior in the College of Arts & Sciences. They were married in a quiet home ceremony. Julian Pratt Waterman Archer, only son of Pratt daughter Evangeline Archer, served the bridegroom as best man.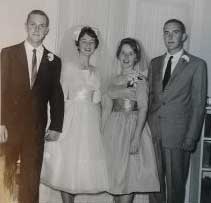 Frank, Sara, bridesmaid Suzanne Savage,
and Julian (from left to right) at Frank
and Sara's wedding.
Frank and Sara were unable to attend Julian and Jane's wedding on June 16, 1962 because it took place in Germany. Jane Gochenour was a graduate of Westhampton College in Virginia who had been attending the Sorbonne, University of Paris. The newspaper said that Lieutenant Julian Archer "attended Colby College, is a graduate of the University of Arkansas, and attended the graduate school of history at the University of Colorado. He is a member of Pi Kappa Alpha fraternity and of Phi Alpha Theta, history honor fraternity. He is at present stationed with United States Forces in Germany."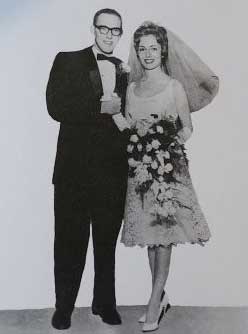 Julian and Jane on their wedding day.
Julian decided to get a PhD in French history at the University of Wisconsin and spent 1966-67 doing research for his thesis in France. At the end of their time there, Julian and Jane invited Frank and Sara to join them in traveling around Europe. They met in Italy and then all four adults and their three children traveled in the Archer's VW camper to Yugoslavia, Greece, and then back to Italy and France. Frank and Sara brought their young son Rob. Sara was well into her pregnancy with their second child, but managed the month-long camping expedition with grace.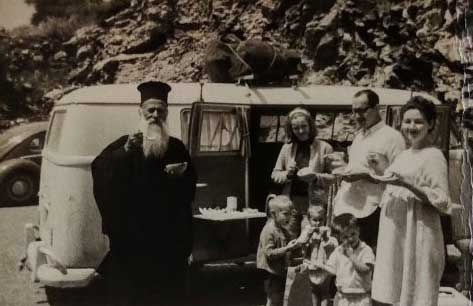 Traveling in Greece in 1968. Greek priest, Jane,
Julian, their two daughters, Sara and son.
Frank and Sara continued their friendship with Joy Pratt Markham and Evangeline Pratt Waterman Archer throughout the 1960s and 1970s. Frank would visit with Mrs. Markham in her kitchen by the wood stove. He said she was very frugal but also very generous. Mrs. Markham talked about the need for an Art Center in Fayetteville. She ended up willing her land and money to the University of Arkansas for nature preservation and the arts. In the 1960s she would load her Rolls-Royce up with her daffodils and drive to Tulsa to sell them. Mrs. Markham gave Frank and Sara's daughter Molly the book 'All Things Bright and Beautiful' by James Herriot, which sparked a great interest in animals. One of Frank's fond memories of Mrs. Markham was when she would ask him to drive her over to his Ozark Mountain Smokehouse on Mt Gaylor for one of his 35-cent ham sandwiches and free coffee. She would sit in the backseat of her Rolls-Royce at the table to have her meal, using a lap blanket to keep her warm. Mrs. Markham died in 1976. 
Frank and Sara had a close relationship with Mrs. Archer as well. They would sometimes drive Mrs. Archer over to Tulsa to visit her brother. Before Beaver Lake was filled up, Mrs. Archer and Sara drove to the land that would be covered with water, dug up wildflowers such as Jacob's Tears, Crested Iris, and Wild Phlox, and replanted them in their yards, since they would be destroyed otherwise. Mrs. Archer enjoyed driving her Volkswagen bug. As a young bride in Fayetteville, Frank's sister Mary Ann didn't want to pay a long-distance fee to Farmington to ask her mother how to cut up a chicken so she called Mrs. Archer instead, who happily obliged. In the mid-1970s, Mrs. Archer asked Frank and Sara if they would take care of her two remaining ponies, Penny and Douglas. The ponies lived on Frank and Sara's property for the rest of their lives. Penny and Douglas are now buried on Kessler Mountain. Frank said that Mrs. Archer taught him the importance of conservation and preserving the environment before it became popular. He said she was strong-minded, had high principles and lived by them. Mrs. Archer died in 1979.
Frank and Julian told me about the Amigos. Julian explained, "It is a group of friends of the same vintage from Fayetteville school days and the U of A.  The Amigos consist of me, Bill Baerg, Bob Cooper, Don Froning, Terry Hunt, David Mulkey, and Frank.  All were members of the Fayetteville High School class of 1956.  (Though I graduated from Principia in St. Louis in 1956.)  Most of us knew one another even before attending Fayetteville High going back to grade school.  Every one of us, except Baerg who went to Stanford, went on to the U of A, though not graduating necessarily in the same year."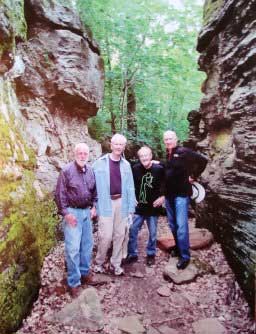 On a Kessler Mountain trail in 2018 at a spot
called Rock City.  Frank, Bob Cooper, Julian,
David Mulkey (from left to right).
Julian continued, "After graduation we went our separate ways and got absorbed in careers and it was only after retirement age that the Amigos came together.  I went on to get a PhD in history at Wisconsin and taught at Drake University in Des Moines for 42 years; Bill Baerg got a degree in engineering and went to work for Hewlett Packard in Palo Alto; Bob Cooper after two years at the U of A transferred to West Point where he got an engineering degree, but a medical condition kept him from getting an army officer's commission and he worked for Bell Telephone; Don Froning became an architect and practiced in Arkansas; Terry Hunt had a chemical engineering degree, worked for Anderson Clayton and Celanese in Mexico, and finally an oil company in Saudi Arabia; David Mulkey went on to the U of A Med School and became a pathologist in Las Vegas; and Frank's career you already know."
"It was a mutual desire to reconnect after all these years that brought the group together around 2005.  The Amigos were scattered from Palo Alto to Las Vegas to Dallas to Des Moines to Monett (MO), with only two living in Fayetteville. We try to meet, with spouses, at least once a year for two or three days, and when Pratt Place Inn was in my hands it was convenient to meet there. Frank graciously always hosts a pizza baking dinner at his "dining hall." We also hold an hour-long conference call the first Sunday of every month just to keep up with one another. Fortunately, we all are in good mental and physical health, though in January we lost Froning."