Markham Hill Moment of History
2020-3-9
Frank Sharp's Friendship with the Pratt Family
by Lisa Orton - Part 1 of 2
Community Radio show
aired on KPSQ 97.3 FM:
Frank Sharp is well-known in Fayetteville, Arkansas for his family's historic Ozark Mountain Smokehouse, his campaign to save Mount Kessler, his work with the Fayetteville Natural Heritage Association, and his philanthropy.  Just google "Frank Sharp Fayetteville Arkansas" and there are some great articles about him. The Northwest Arkansas Land Trust website describes the Kessler Mountain Reserve as follows: "The creation of the Kessler Mountain Reserve was initiated by local conservation advocates, including Kessler Mountain resident Frank Sharp and the Fayetteville Natural Heritage Association. The City of Fayetteville acquired 387 acres on Kessler Mountain and partnered with Northwest Arkansas Land Trust to place a conservation easement on the land. The conservation easement ensures this ecological and scenic treasure will remain undeveloped, wildlife habitat will be protected, water quality will be maintained, and community members will enjoy seven miles of trails for hiking, biking, birding, and relaxing for years to come."
Frank Sharp grew up on Kessler Mountain. The Pratt family had settled on nearby West Mountain, now called Markham Hill after Joy Pratt Markham, in 1900. Frank began a friendship with the Pratt family in 1945 when he was in the second grade at Peabody Elementary School on the University of Arkansas campus.  Frank met Julian Pratt Waterman, the son of Evangeline Pratt Waterman, in class and they became lifelong friends. Frank and Julian played together, rode horses, and attended Easter Egg hunts and other social gatherings. (Peabody Hall was built in 1913. A training school was operated in Peabody Hall for more than 50 years by the department of curriculum and instruction in the College of Education and Health Professions. The University High School graduated its last class in 1962 and the Peabody Elementary School closed in 1966.) 
Julian's mother married Laird Archer in 1947, and so she became known as Mrs. Archer to Frank from then on. Between the ages of 9 and 13 Julian went to live in Greece where his family took up residence in a suburb of Athens. When the family returned to Fayetteville upon Laird Archer's retirement in 1952, Frank and Julian reestablished their connection. 
Mrs. Archer arranged for Julian, Frank and several of their friends to go on two-day horseback rides on backroads to Lake Wedington in the summer months. They would ride there, often bareback, eat by a campfire, stay overnight in the cabins, and ride back the next day. When Frank and Julian were teenagers, one of their chores was to drain Julian's Aunt Joy's (Joy Pratt Markham) swimming pool, dig the dirt out, and fill it back up using the year-round spring nearby.
After his return from Greece, Julian would visit George Pappas, owner of the Majestic Café (now known as George's Majestic Lounge) on Dickson Street, every week to practice speaking his Greek. Julian went to school in Fayetteville for two years from 1952-54, attending Fayetteville Junior High and Fayetteville High School. He then attended the Principia School in St. Louis his junior and senior years of high school from 1954-56. Frank and Julian both attended the University of Arkansas in Fayetteville.
Julian told me about a trip that he, Frank, and friend Terry Hunt took to Europe. "We took a three-and-a-half-month trip to Europe in the summer of 1958 at a cost of $1,000 each from Fayetteville and return including trans-Atlantic ship passage and car rental (a Citroen 2CV).  Most of the time we were camping, simply rolling out our sleeping bags in fields, vineyards, or olive groves, but when in cities like Rome or Venice we stayed in campgrounds.  A few places we used hostels and in Paris a cheap hotel.  This trip was between our sophomore and junior years at the U of A."
During this adventure, they also left their car in Italy, took the ferry to Greece, stayed at the American College dormitory and hitchhiked or took a local bus to tour around Greece.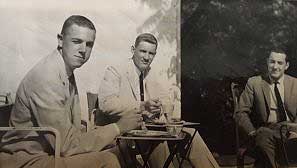 Frank Sharp, Terry Hunt, and Julian Archer (from left
to right) seated on the Waterman-Archer Cottage patio
before their trip to Europe in 1958.
Julian continued, "In 1958 it was too costly to fly, so students traveled by "student ships" chartered from the Arosa Line by the Council on Student Travel.  The Council had a collection of five vessels making a rotation from Quebec to Europe.  We went over on the Arosa Sun and returned on the Arosa Star and each passage took ten days.  The accommodations were quite basic, but we were served three very nice meals a day and the ship had an orchestra which performed each night and we danced away every evening with no drinking age enforced at sea.  The passage turned into an around-the-clock party.  On the return to Quebec a fellow passenger, also a student, attached himself to the Traveling Trio, and entertained us on deck after the dancing ended when the lounge closed at 1:00 a.m.  He had a guitar and entertained us with his huge repertoire of songs as we sat around on deck drinking beer until almost breakfast time. You may have heard of this student, but not in this context. His name is Peter Yarrow and he went on to create a trio, Peter, Paul, and Mary."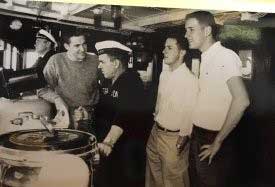 On the bridge of the ship Arosa Sun in 1958, the
captain, Julian Archer, a seaman at the wheel,
Frank Sharp, and Terry Hunt (from left to right).
Frank wrote a column for the Northwest Arkansas Times entitled 'Tales of the Traveling Trio'.  He mailed these to the paper periodically during their travels.
On November 28, 1959, Frank and Julian were groomsmen and ushers at Frank's sister Mary Ann's wedding.
In July of 1960, Frank Sharp, Julian Archer, and Terry Hunt were among the many who ran for Justices of the Peace. The Northwest Arkansas Times on July 20, 1960 described each young man as follows: "R. Frank Sharp is employed by Continental Oil Company and is also assistant manager of Ozark Mountain Smoke House. He has attended the University studying government. Julian P. W. Archer is a graduate of the University, having majored in government. He is receiving his second lieutenant's commission at ROTC summer camp. Terry Hunt is a University student interested in government. He is a lifelong resident of Fayetteville."
Why did they run? Since Justices of the Peace had a right to perform marriages, they were going to run a 24-hour-a-day "marriage service". Terry did get elected. Frank and Julian came close but did not make it. The marriage business never got off the ground as the military took all three of them away from Fayetteville within a few months.