Reefer Songs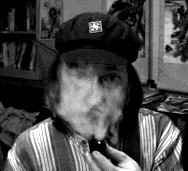 Hogeye Bill's opinion. It's my page.
Top Ten Reefer Songs
Stonerable mention:
Illegal Smile
, John Prine, 1978;
Kaya
, Bob Marley & the Wailers, 1978;
Legend of the USS Titanic
, Jamie Brockett, 1968;
Reefer Man
, Baron Lee and the Blue Rhythm Band, 1932;
When I Get Low, I Get High
, Ella Fitzgerald, 1936.
---
I have some original songs about weed. My efforts range from the inspirational spiritual The Joint Beats the Jigger to the high-and-whimsical Stoned Song. Intolerant attitudes about weed (among other things) are ridiculed in The Hypocrite, one of several songs with libertarian themes. Another is Hill Country Outlaw, which compares old-time moonshining with pot growing as it extols the Ozark mountain hillbilly anarchist lifestyle. The of course, there's the coffee-house favorite - my most requested song - Every Dead Narc is One Small Step for Freedom.
Marijuana CD's
Here is a list of CD's which are collections of marijuana songs. If you know of others,
email me
.
Reefer Songs, Jass Records, 198?, J-CD-7

Viper Mad Blues, Jass Records, 1991, J-CD-630, [VMB]
Marijuana's Greatest Hits, Re-Hash Records, 1992, [MGH]
Hempilation - Freedom is NORML, Capricorn Records, 1995, 42047-2, [HFN]
Revised 1/28/2016